TrueBuild is proudly owned and operated by Directors Taffy Lewis and Eddy Flamsteed who are both passionate about making innovative, functional and architecturally designed homes more affordable than you think.
With years of experience on the tools as carpenter's in both framing & high detailed work. This, along with management roles as site supervisor's, they are well equipped with the knowledge and attitude to deliver the product Truebuild Homes pride themselves on. Collectively they have created a high detail-oriented, hands on business approach with their client at the centre of every stage of building their new home.
With the additional value of offering home design as well as construction, TrueBuild can create and construct your dream home from start to finish and manage the entire process with you every step of the way.
If you're after a personal, small builder experience with your new home without the stress,  get in contact with TrueBuild today.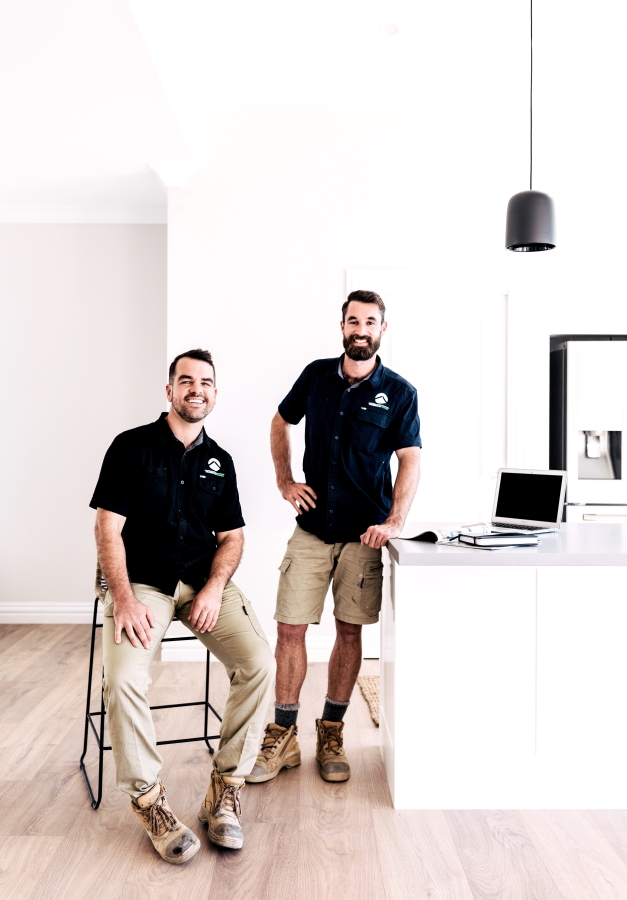 The TrueBuild difference
We pride ourselves on building strong and lasting relationships with our clients which come from a genuine care and commitment to their project. We are not like the other large project builders and ensure that our client is at the center of everything we do from design right up to completion. Get in touch today to discover the TrueBuild difference.
Workmanship and
attention to detail
Coming from high quality construction backgrounds, TrueBuild's Directors accept nothing less than the highest attention to detail & superior workmanship. We maintain this high level of quality by being involved in every aspect of your build personally, from design to construction we will be there through every step of the process. Our extended team who work with us have been chosen for the passion, skill and consistency in delivering excellence on every job.
Free site inspections
TrueBuild offers all customers a free, no obligation site inspection of the block of land in order to provide the right advice for your building options. After discussing the necessities of your new home & budget we will then assist you in either selecting the right home design from our specialty range, help you in modifying one of our home designs to suit your family & lifestyle, or work with you to create a completely custom design alongside our architect.
Complete design flexibility
At TrueBuild Homes we offer our clients complete design flexibility, whether it be modifying a home from our own range, or designing your own custom home from scratch, we want to create homes that are a perfect match for our clients in every way. We work closely with an award-winning architect who will translate your ideas and vision into a design ready to submit to council. This makes the process seamless and stress free for our clients and is included in our pricing.
Complimentary interior design / colour consultant
Interior design is about being creative, artistic and expressing your own personal style. But doing this on a timeframe and a budget can sometimes be difficult. Selecting colour schemes, Cabinetry & Benchtop combinations, Tile & Flooring selections and making sure they all work together can be a daunting experience. To assist in your selections, and to relieve the stress, we offer complimentary services including a consultation with an interior designer to help us all achieve a professional finish.
Challenging site? No worries!
We don't place any limits on the style of home or the land you own. We confidently build on sloping sites with either slab or bearer & joist construction. We work with Single Storey, Double Storey & Split Level Homes. We can reach the desired outcome for our clients at an affordable price. We can make it fit your block, lifestyle & budget!
Stress free building
Building a new home can be daunting & stressful. With TrueBuild Homes personal one–on–one relationship with our clients, we make it exciting and easy. You will be kept up to date at all progress stages of your new home and will be invited to visit your site as often as you wish. You are not a number with us, you are the most valued member to our team in helping us share your vision to create your dream new home!
Luxury standard inclusions
Are you tired of getting a price that doesn't include everything? Sick of unexpected additional costs? TrueBuild Homes sets itself apart from other builders by offering our clients standard inclusions that are not only premium, high quality & on trend, but include everything your home needs to be fully finished in our formal quote. The types of features that other builders charge extra for, we include in our standard packages. No hidden extras! We pride ourselves on being able to give our clients luxury finishes as a standard feature.
Check out our GOLD Inclusions Package for a list of the standard features we include in every home. Want to be able to customise your home even further? Our PLATINUM Upgrade Inclusions Package offers even more options for your home. We have both contemporary and traditional styles to choose from. The beauty of our upgraded range is you don't have to spend money where you don't want to, we offer you the flexibility of only choosing the individual upgrades you want!
Be sure to keep an eye out for our regular upgrade promotions!
What Our Clients Say About Us
We cannot thank the team at TrueBuild Homes enough! They have not only delivered an outstanding result for our family home that exceeded our expectations, but the experience we have had along the way has also been incredibly positive and stress free. The team have gone above and beyond, from proactively replacing and repairing parts of our existing heritage structure, to saving us money on materials without compromising on quality in other areas of the house. They always ensured the materials and finishes were high quality, would stand the test of time and give us the best outcome for our family's needs. The attention to detail and care shown throughout the process was so much more than we expected. Importantly for us, their honesty, integrity and transparency throughout the process gave us complete confidence and peace of mind that our home was in good hands and we had chosen the perfect team for our project. We would absolutely work with TrueBuild Homes again and highly recommend them to anyone looking to work with great people who know their trade well, genuinely care and deliver outstanding results!

The Johnson Family